Sleeping Positions
Sleeping On Your Back
Sleeping on your back is the master position for posture correction.When lying on your back gravity pulls your head and shoulders down and straightens your spine back into the correct 'S' shape.
Your head needs to be at the right height.If your pillow is too thick, your head will be elevated and this will result in a hunched back.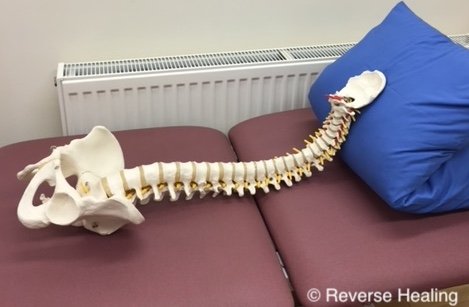 Avoid turning your head and (or) raising your shoulders and your arms.
Turning your head will cause muscle shortening in your neck (stiff neck).
Raising your shoulders will cause muscle shortening above your shoulders (stiff neck and shoulders).
Raising your arms will cause trapped nerves and blood vessels (numbness, pins and needles).
Sleeping On Your Front
Sleeping on your front is not recommended because it is impossible to retain the 'S' shape (neutral position of the spine).
Your head will need to turn to breathe (stiff neck).
Your arms will be lifted and your shoulders will be rounded forward, reducing circulation (numbness, pins and needles in the arms).
Your lower back will arch (lower back ache).
It is better to change position and sleep on your side. If not, the only advice is to have a pillow under your chest and belly.
Placing a pillow flat under your chest and belly will relieve a certain amount of pressure from your neck and lower back.