Sleeping Positions
Sleeping On Your Side
Sleeping on your side is a secondary position.
This position helps move the blood around the body and avoid pressure soreness on the skin.
When lying on your side, gravity does not restore the 'S' shape of your spine so it is not a posture corrective position.
Your head needs to be at the right height.If your head is not at the right height, your neck will side bend and strain (stiff neck).
The shoulder you rest on should be pulled back.If the shoulder you rest on is pulled forward, circulation to your arm will be cut (numbness, pins and needles).
Avoid the recovery position. When in recovery position, your spine is twisted, straining your lower back and your neck.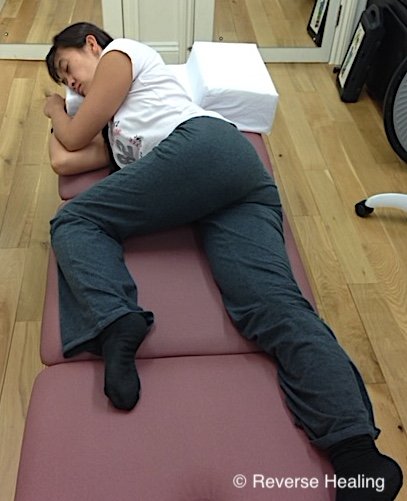 Avoid the foetal position.It will give you a hunched back.
Your top arm should rest on the side of your body. Your legs should rest on top of each other.
If your top arm leans forward, your shoulder will round forward and strain (stiff neck and shoulder muscles).
If you assume a recovery position, you will strain your lower back and your neck (see recovery position above).
How To Sleep Better - The Good Way
I have designed the 3DS Posture Pillow (3 Dimensional Support and 3 Distinct Sections) to give you optimal support when sleeping on your back and on your side. Find out more about the 3DS Posture Pillow ...